Get to Know Donati Law, PLLC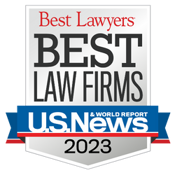 Our team of attorneys at Donati Law, PLLC has been representing the people of Memphis and the Mid-South area for more than 35 years. Our lawyers pride themselves in their tireless advocacy for the rights of their clients. Our goal is to level the playing field in a system that often favors the wealthy and powerful.
We Are Committed to the Fight for Justice in All Areas, Including:
Employee Rights – Employees mistreated in the workplace
Disability Benefits – Individuals who are ill and no longer able to work
Denied Claims – Individuals who have been injured and have suffered the bullish indignities of a powerful insurance company
Veterans' Benefits – Veterans forgotten by the country they served
Donati Law, PLLC seeks justice one client at a time because every client is a cause we believe in. Whether you need representation for a personal injury claim or an employment law matter, we're here for you.
Need legal counsel? Call (901) 209-5500 for an initial consultation.
Our Mission: Improving Lives
Donati Law, PLLC is focused on improving the lives of our clients and to affect the necessary legal change that will improve the lives of all people in our community. We offer experienced legal services in our advocacy for the rights of their clients, especially for those facing difficulties in the workplace, with insurance companies, or with government services.
We are dedicated to the ethical practice of law combined with an unwavering commitment to all clients regardless of their position or station in life.
About The Donati Shield – A Symbol of Protection
The Donati Shield was created from the D and L of Donati Law. It also resembles in color and shape the "stemma"—or emblem—of the medieval Donati family of Florence, Italy. In days of old, these emblems often were affixed to buildings or carried into battle signifying that the family was fighting to protect a neighbor, friend, or ally.
The shield is appropriate now for Donati Law, PLLC, as it symbolizes our efforts to protect the interests and rights of our clients and vigorously promote their causes.
Have Questions? Please Contact Us As Soon As Possible To Learn More.