Memphis Truck Accident Lawyers
Get in Touch with Truck Accident Firm in Tennessee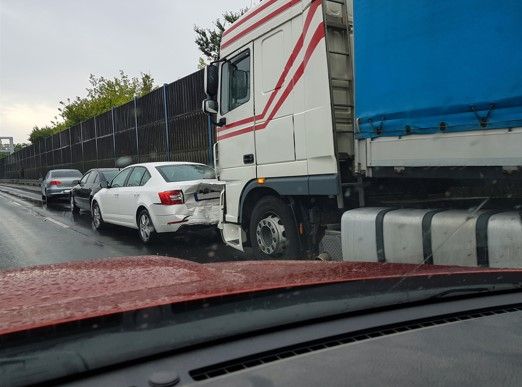 Each year, thousands of persons sustain serious and fatal injuries as a result of accidents involving big rig trucks. In fact, according to the Insurance Institute for Highway Safety, in 2018 alone, 4,136 people sustained fatal injuries in truck and bus accidents, many of which were completely preventable and occurred when truck drivers acted recklessly, carelessly, or negligently while behind the wheel.
Memphis is an important shipping and transportation hub, sometimes referred to as "North America's Logistics Center." Major truck lines operate huge terminals in the area and as a result, many semi-trucks are on the roadways in and around Memphis on a daily basis. This makes it vital for drivers to remain alert and focused while on the road, particularly when sharing the highway or interstate with semi-trucks.
At Donati Law, PLLC, our Memphis truck accident lawyers know that these types of collisions can affect an entire family and that is why we are dedicated to fighting for the rights of those in need of a relentless legal voice.
Donati Law, PLLC Is a Legal Team That:
Has gained inclusion in the U.S. News & World Report's "Best Law Firms"
Is passionate about delivering professional and quality legal representation
Is equipped with more than a century of combined legal experience
Is dedicated to personalized legal strategies in every case
Speak with a truck accident lawyer in Memphis, TN at Donati Law, PLLC today.
Contact us online or call (901) 209-5500 for a consultation. Se habla Español.
How Common Are Truck Accidents?
According to the Federal Motor Carrier Safety Administration (FMCSA), there were about 510,000 truck accidents in 2019 that were reported to the police, which means that they can be verified. About 1% of those crashes caused a fatality. Another 29% of those crashes caused a serious injury that required medical attention. This data is more or less consistent with the last few years, too, which means that, on average, there are nearly 1,400 truck accidents each day, including 14 fatal accidents and 406 injury accidents.
What to Do After a Truck Accident
Let our attorneys know if you took these steps after your truck accident:
Called 911: Emergency responders should be called after virtually any truck accident. If someone was injured or a vehicle was significantly damaged in a truck accident, then 911 should be called by default. The reports that EMTs, police officers, and firefighters make about your crash can be great sources of evidence later.
Traded information: You need to get insurance and identifying information from the truck driver who hit you. You should also collect any information about the trucking company that employed them because that company could likely be partially liable for your damages.
Took photographs: Pictures from the scene of a crash are usually the most convincing and readily available forms of evidence. Use your smartphone to snap as many pictures and videos of the scene as you can. You cannot have too many pictures of a truck accident, so keep clicking the shutter until you know you have captured everything, including traffic and weather conditions.
Got medical treatment: No matter how "okay" you feel after being in a truck accident, you need to see a medical professional for treatment within the next hour or so. Failing to do so could make you partially liable for the severity of your injuries.
Common Types of Truck Accidents
In our 35+ years of serving Memphis, our truck accident attorneys have seen many types of cases come through. The most common types of accidents are:
Loss of control
Jack-knifed trucks
Blindspot accidents
Roll-over accidents
Head-on collisions
Rear-end collisions
Lane change collisions
Center lane crossovers
Tire blowouts
If you were involved in a truck accident and have suffered injuries you have a right to fight for the compensation you deserve. Do not hesitate to reach out to Donati Law, PLLC -- we can determine if you have a case.
Common Causes of Collisions Involving Big Rig Trucks
Due to the sheer size and weight of big rig trucks, the result of a collision involving such a vehicle can be disastrous and, in the worst case, fatal. At Donati Law, PLLC, we find that many truck accidents occur due to the following:
Driver fatigue: Truck driving is a high-pressure, high-stress occupation that often requires drivers to deliver goods within a set period of time. This leads to long periods of driving with little or no rest. While there are laws and regulations that dictate how many hours a truck driver can drive per shift, many companies do not follow these rules, leading to devastating collisions.
Failure to comply with signals or signs: Everyone has a duty to obey the laws of the road, including truck drivers. Failing to obey these signs and signals in most states is illegal so drivers may be charged with fines if caught disobeying traffic signs and signals. Furthermore, when truck drivers choose to blatantly heed these regulations and warnings they put themselves and other motorists at risk of being involved in a crash.
Impatient driving: Anyone who drives regularly sees impatient drivers on the road. Common examples include tailgating to "push" other drivers out of the way or quickly changing lanes or speeding up to pass other drivers on the road. While these actions may save truckers a few minutes in the scope of their travel time, impatient truck drivers can be a great danger to other motorists and pedestrians on the road.
Distracted driving: Driving an 80,000 lb truck is a task that requires special licensing and a driver's full attention to be done safely. Distracted driving is as much of an issue in the trucking industry as it is on your local roads. Texting while driving, eating, adjusting a radio, or engaging in any other task that diverts a trucker's attention away from the roadway can often lead to devastating collisions.
Alcohol and drug intoxication: To many people's surprise, trucking is an occupation with a high rate of alcohol and drug abuse due to the associated stress of the job and the need to stay awake while driving. According to a recent study, 30% of truck drivers admitted to taking amphetamines on the job, 20% used marijuana, and 3% used cocaine. These drugs keep drivers awake unnaturally but can also compel them to take more risky maneuvers behind the wheel.
Speeding: Sometimes it is not possible for a trucker to reach their destination in the time allotted by their employer, but they might try anyway. Speeding trucks can be more difficult to control and require greater distances to come to a complete stop, putting nearby passenger vehicles at risk.
Lack of training
Brake failure or mechanical failure
Overloaded trucks
Common Injuries in Truck Accidents
Back and neck injuries
Broken bones
Burn injuries
Head injuries
Lacerations
Seat belt injuries
Contact Donati Law online or call (901) 209-5500​​​​to get started on your truck accident case.
How Are Truck Accidents Different Than Car Accidents?
Truck accidents involving semi-trucks, or 18-wheelers, are different from regular car accidents in several important ways. The most obvious difference is that when semi-trucks are involved in accidents they can cause very serious physical injuries and damage to other vehicles, beyond that of a typical car accident, due to their sheer size and force. As a result, semi-truck drivers are required to meet higher safety standards than individuals driving regular automobiles.
Truck drivers must comply with state and federal rules that regulate many aspects of their job, such as rest periods and the maximum number of hours they may drive each day. Also, The Federal Motor Carrier Administration requires truck operators to carry insurance policies that have higher limits than typical automotive insurance. These higher limits are justified by the serious damages and injuries that can be caused by semi-truck accidents.
Donati Law, PLLC Can Fight for Your Rights
Our legal team at Donati Law, PLLC understands that any type of vehicle accident can leave an entire family worried about a victim's health, medical expenses, lost wages, and more. For this reason, our truck accident lawyers in Memphis are prepared to form only the strongest legal strategies in order to pursue maximum personal injury compensation for the victim and his or her family. When you choose to work with our team, you will never feel alone. We will provide top-tier legal solutions and compassionate representation from beginning to end.
Truck Accident FAQ
How Is Fault Determined in a Truck Accident?
Fault is determined by a number of factors. The police will investigate the accident and create an accident report, which can be used as evidence. Your Memphis truck accident attorney will investigate the accident as well—as will the trucking company's legal team. Ultimately, a negotiation between the parties will be reached or a judge in a court of law will decide who holds responsibility for the crash.
The best things you can do to prove fault after a truck accident include:
Make sure to call the authorities to the scene of the accident so it gets reported
Collect your own evidence, such as photographs taken at the accident scene and a copy of the police report
Determine whether you contributed to the accident in any way
Contact a truck accident attorney in Memphis for legal advice and representation
Who Is Liable in a Truck Accident–the Driver or the Trucking Company?
The answer to this question depends on the unique circumstances of a crash. If, for instance, your accident was caused by driver error, such as drinking and driving or speeding, the driver will likely be the liable party. However, if your accident was caused by a factor the trucking company was responsible for, such as the maintenance of the truck, then they can be held liable for the accident. In many truck accident claims, more than one party may be liable for your crash—including third parties such as loading companies. Your lawyer will conduct an investigation that will help determine the exact cause of your crash so that the party responsible will be held legally liable.
Do Special Laws & Regulations Apply to Truck Drivers?
Yes. Many federal and state laws and regulations apply to truck drivers and commercial trucking operations as a whole. The Federal Motor Carrier Safety Administration (FMCSA) is the government agency responsible for regulating and providing safety guidelines and investigations for commercial vehicles like 18 wheelers. Drivers are restricted from using any phone that isn't hands-free, must participate in mandatory drug screenings, and possess a commercial driver's license (CDL). The FMCSA also maintains hours of service (HOS) regulations that prevent drivers from spending too much time behind the wheel.
Call Donati Law, PLLC and speak with a Memphis truck accident attorney immediately. We can begin working on your case right away!