In the U.S. immigration system, U.S. citizens and lawful permanent residents (LPRs) may petition for immigration benefits for their family members. The type of benefit available to the alien relative depends on several factors. Family-based immigrant visas fall under two general categories: Immediate Relatives and Family Preference.
Immediate Relative (IR) of U.S. Citizens
These visas are always available but only for aliens who are closely related to a U.S. citizen. The following relationships qualify for IR benefits:
Spouses of U.S. citizens
Unmarried children (under the age of 21) of a U.S. citizen
Orphans adopted abroad by a U.S. citizen
Orphans to be adopted in the U.S. by a U.S. citizen
Parents of an adult U.S. citizen (at least 21 years old)
Family Preference Immigrant Visas
For all other family relationships, aliens can seek benefits under the Family Preference system. Unlike the Immediate Relative category, these visas are subject to annual limitations per country. In other words, aliens in the Family Preference category must wait for a visa to become available before they can become permanent residents. The Family Preference categories are: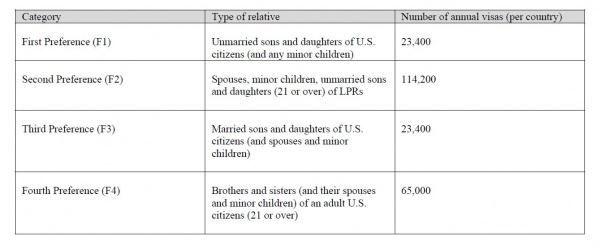 Wait Times for Visa Availability
In the Family Preference categories, oftentimes there are more petitions filed than there are available visas. In those instances, aliens must wait for a visa number to become available. The "wait line" for an available visa is determined in chronological order based on the date that the petitioner filed the alien's application. This is referred to as the "priority date." Until the applicant's priority date has been reached, USCIS cannot issue an immigrant visa. Unfortunately, alien relatives in some categories face very long wait times. Applicants can refer to the official Visa Bulletin to see whether their priority date has been reached.
Distant Relations
Not all relationships qualify for family-based immigration benefits. Grandparents, aunts, uncles, in-laws, and cousins cannot sponsor a relative for permanent residency.
Conclusion
This information is only a brief overview of the complicated U.S. family-based immigration system. Each category has specific rules and requirements. Before attempting to file for immigration benefits for a family member, it is always advisable to consult with an immigration attorney.